The Google Voice vs Vonage debate is an age-old question. These providers are some of the oldest VoIP phone services for business on the market and have amassed quite the following to boot.
But is size or age alone an indicator of practical use?
Absolutely not. ❌
Although both of these VoIPs have been around for more than a decade, neither offers much small business functionality. Google Voice wasn't built for business in the first place, while Vonage is more focused on enterprise-level customers than solopreneurs.
If you're a growing team weighing your business phone options, are either of these platforms really worth your time?
You be the judge.
Let's examine the Google Voice vs Vonage question using their pricing plans, basic features, and third-party integrations as a comparison point, announcing a winner for each category. And if you're not impressed with either option, we'll provide a third VoIP phone service that might be just what you're looking for.
Google Voice vs Vonage: How do these platforms stack up?
There's only one way to answer the Google Voice vs Vonage debate: with a comparison! ⚖️ Let's take a closer look at how these VoIP services stack up, specifically on price, features, and integrations. And don't worry: we've got a complete chart comparison at the bottom so you can get the full TD;LR.
1. Pricing for Google Voice vs Vonage: Which delivers the most value?
Winner: Google Voice
Of course, you may be thinking Google Voice is the winner. It's free, right?
Well, not exactly.
There is a free version of Google Voice available, but this is extremely restricted and only available for personal use. If you don't already have an existing US number, you'll be totally out of luck.
Your next best option is to upgrade to Google Voice for business (also known as Google Voice for Google Workspace), which is the business version with professional features and functions. Pricing plans start at:
Business Starter: $10 per user per month
Business Standard: $20 per user per month
Business Premiere: $30 per user per month
But don't be fooled: while this pricing may seem simple on the surface, you'll also need an active Google Workspace plan (a minimum extra $6 per month) to even use Voice. Altogether, you're looking at $16 a month at minimum.
Now let's turn to Vonage, shall we? This VoIP platform has three major plans to choose from:
Mobile: $19.99 per line per month
Premium: $29.99 per line per month
Advanced: $39.99 per line per month
These prices are only skin-deep. Dig into Vonage's payment plans, and you'll see that monthly costs aren't just based on the plan in question, but on how many teammates a company has. Five to nine teammates on the Mobile Plan are $17.99, while ten to nineteen teammates are $14.99. Getting penalized for being a small business? Not a good look. 👀
Vonage does have additional cost considerations, particularly for businesses with multiple cell phone numbers. Secondary lines with Vonage are $14.99 per number per month — for every number you have. These costs have the potential to add up pretty quickly, eating big portions of your internal business resources.
Google Voice might be the cheaper platform of the two depending on your team's size, but both of these service providers make their pricing plans confusing, convoluted, and hard to follow.
2. Features of Google Voice vs Vonage: Which gives you more must-have business phone features?
Winner: Vonage
Vonage slides back into the limelight with a couple of great features, offering more than 50+ options across all plans. Going by their Mobile (basic) Plan, you can see a few gems that make call management easier:
Desktop and mobile apps
Unlimited calls and SMS
Access to the App Center (AKA integrations)
Just like any other VoIP system, you can make phone calls from your computer and mobile device. However, you'll need to upgrade several times over to access everything else that modern businesses need. Manual call recording, voicemail transcriptions, and conference calling are only available on their highest-tier plan.
Even if you upgrade to access these features, you might join hundreds of dissatisfied reviewers frustrated by Vonage's lack of usability. Automatic call recording isn't available, while toll-free numbers are available for US customers only. And it looks like customer support may not be of much help: ⬇️
"Their support is absolutely awful. I had a support ticket open for 6+ months that was never followed up on. It turns out the issue wasn't a bug at all (which I was originally told), but rather the 'button' I had been looking for was buried in the interface. No apologies, no followups (despite been told repeatedly I'd get one). Support is the WORST." – Jonathan A.
"There is no number to call for customer support. You have to use chat and all my experiences on chat have been slow and poor. Would not recommend." – Stuart H.
"Awful communication, no help lines, they literally couldn't add a location after weeks of them attempting, and when I tried contacting them they never answered." – Victoria P.
Let's switch our attention to Google Voice. If you're still interested in the free version, you should know that the features provided are extremely limited:
Do Not Disturb
Business Greetings
Phone and desktop apps
Keep in mind that you'll need to pay the piper if you ever want to port out a number from Google Voice. 💰
Paid plans from Google Voice for Google Workspace are better than the freebie tier. They offer:
Call routing
Call forwarding
Transcribe voice to text
But don't get too excited. Even the highest tiered plans of Google Voice don't offer auto-replies, toll-free numbers, call recordings, or any team collaboration features.
Both Vonage and Google Voice miss the mark on a couple of things, including individual access to phone numbers that don't work for multiple coworkers. This makes daily customer interactions much more time-consuming and keeps teams from staying up to date on conversations. Worse still, Vonage only supports MMS messages with extensive API implementation. Google Voice doesn't support MMS at all. This makes it impossible to personalize or add context to conversations, especially for help desk teams.
Couple these considerations with zero texting automation and a lack of auto-replies, and it looks like your reliance on manual labor just went sky-high. 🚀
3. Integrations for Google Voice vs Vonage: What tools does each platform connect to?
Winner: Vonage
We hate to be the bearer of bad news, but neither Vonage nor Google Voice has much to offer in terms of business integrations.
Vonage seems to have a presentable selection of platforms at first glance, including Google Workspace, Zendesk, and Slack. You'll need Vonage's Premium plan or higher to access any CRM integrations, including Microsoft Dynamics and Salesforce. If you happen to be outside the US, you can't use Microsoft Dynamics (and a couple of other platforms) at all.
If you think that's less than ideal, you won't be a big fan of Google Voice's integrations.
Although Google Voice has a few great connections, they consist only of internal Workspace apps. Think Gmail, Drive, and a few other elements of G-Suite. If you want to integrate with anything else in the future, you might find yourself severely limited — stifling your growth (and your caller's happiness) as a result.
Google Voice vs Vonage Business: Who wins out?
When it's all said and done, there's no clear winner between Google Voice vs Vonage Business. Neither platform makes a clean break, and they don't seem to offer the features or integrations needed to take your business to the next level.
Even long-standing providers like RingCentral and Ooma don't necessarily have everything small businesses need to make it big.
Is it possible to get a phone line that sits at the intersection of great prices, great features, and decent integrations? Totally — and we've done it for thousands of business owners.
OpenPhone is G2's highest-rated business VoIP
At OpenPhone, we believe that all teams deserve access to a better business phone system, one that combines the highest level of call quality with the best features on the market. By offering a full set of integrations at a price point you'll love, we're nothing like the PBX of yesteryear.
1. Work together off a shared number
Keep your team aligned and split responsibility for incoming calls by working from a shared collaborative number. ☎️ Teams can collaborate in context using internal threads and mentions, making notes directly in outbound messages without ever being seen outside your team. Stop duplicate work before it happens, and be a much better steward of your time, money, and effort.
2. Get more context faster
Create a single source of truth for customer contacts by using tools that offer context about any conversation. Voicemail transcriptions and call recordings allow you to catch up on discussions even faster, so you can provide contacts with definitive answers in less time.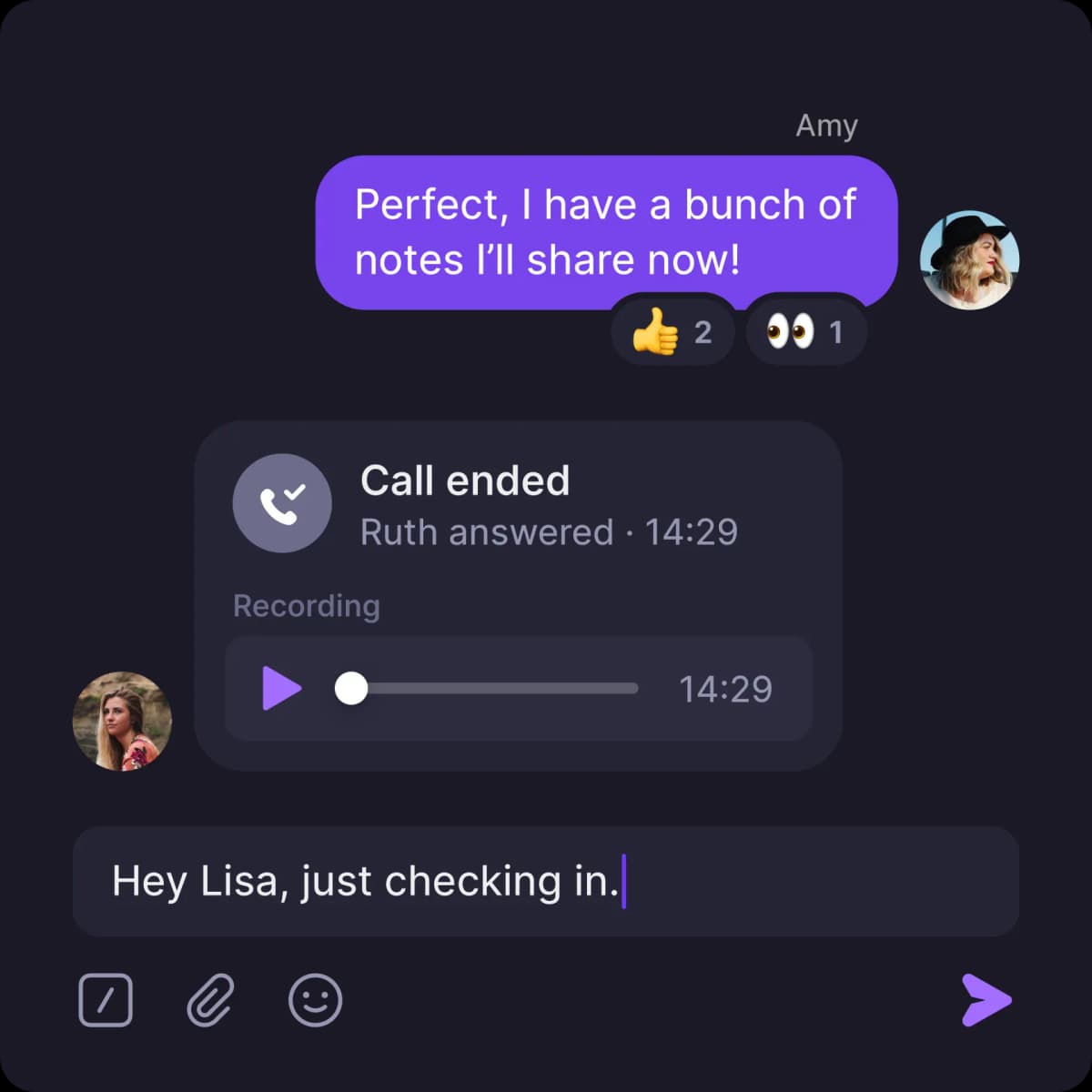 One inbox for each phone number in your workspace gives you the ability to see calls, texts, and voicemail messages in a single conversation thread without having to click into separate folders (you're welcome). And by the way: we do support MMS. Just sayin'.
3. Know how much you're paying upfront
Speaking of price points, OpenPhone's transparent pricing plans are always available online, totally devoid of sneaky fees or fine print. We don't do the whole 'hidden cost' thing and prefer to keep it real when we're talking about your money.
Pick from one of three plans: Standard, Premium, and Enterprise. No secondary subscriptions or team member limits to worry about!
4. Easily scale your business phone system
If you need more phone numbers than team members in your workspace, each extra number is just $5 per month. Any time you need a new number, just spin it up in seconds and assign it to someone immediately — no waiting periods, no driving to a store, and no new contracts. 📲 Let your business grow any way (and anywhere) you want.
5. Save time on routine tasks
OpenPhone's integrations blow the competition out of the water, streamlining daily tasks with easy-to-use automation features. Auto-log all your communication with webhooks and our HubSpot integration.
Integrating with Zapier gives you the option to connect OpenPhone to thousands of other apps so you can save time on all sorts of routine tasks including sending appointment confirmation texts, auto-transcribing call recordings, and more.
Google Voice vs Vonage vs OpenPhone comparison table
Check out a full list of comparable features for OpenPhone vs Google Voice vs Vonage.
| | OpenPhone | Vonage | Google Voice |
| --- | --- | --- | --- |
| Pricing | Starts at $13 per month per user | Starts at $19.99 per month per line | Starts at $10 per month per user |
| Unlimited calling to US & Canada | ✓ | ✓ | Unlimited calls to Canada from US only |
| SMS/MMS to US & Canada | ✓ | Local US and Canadian numbers only | US customers only |
| Voicemail transcriptions | ✓ | Requires upgrade | ✓ |
| Set business hours | ✓ | ✓ | ✓ |
| Additional phone numbers | $5 per month per number | $14.99 per month per extension | Varies |
| Call recording | ✓ | Requires upgrade; 15 hours max | x |
| Shared phone numbers | ✓ | Requires upgrade or $4.99 add-on for each call group | Requires upgrade |
| Auto-attendant (virtual receptionist) | ✓ | Requires upgrade | Requires upgrade |
| Auto-replies | ✓ | x | x |
| Slack integration | ✓ | ✓ | x |
| Zapier integration | ✓ | Requires upgrade | x |
| CRM integration | Requires upgrade | Requires upgrade | x |
| iOS and Android apps | ✓ | ✓ | ✓ |
| Browser app | ✓ | ✓ | ✓ |
| Desktop apps | ✓ | ✓ | x |
Get the most business-friendly phone system with OpenPhone
Incredible functionality, simple to use, and streamlined business communications — it's just how we do it here at OpenPhone. Give us a shot with a full one-week trial totally on us.
Meagan is a professional writer in VA that has covered business phone communication since 2021. If she's not helping companies navigate VoIP technology, she's helping companies craft their own stories.